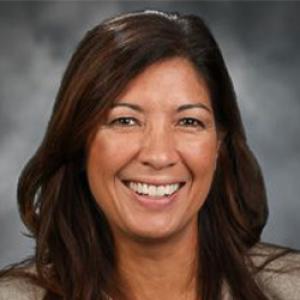 Academic Fieldwork Coordinator; Assistant Professor in Orthopaedic Surgery
Contact Information:
she/her/hers. Female, white/Asian/Pacific Islander, first-generation Occupations: Golfing, cooking, skiing, running, walking/hiking, biking, reading, crocheting, eating, driving, traveling, playing cards and board games, shopping, spending time with family and friends, caring for my dog and two cats, watching movies.
Occupational roles: Wife, mother, daughter, sister, educator, occupational therapist
Dr. Moyle graduated with a B.S. in Business Administration from Rider University in 1994, B.A. in Health and Exercise Science from Rowan University in 2007, and an MOT in Occupational Therapy from the University of the Sciences in Philadelphia in 2012. She completed her OTD and Capstone Project in student performance on fieldwork using multi-source feedback from Chatham University in 2017. Previously, she was an Assistant Professor and Academic Fieldwork Coordinator for five years in the Occupational Therapy Program at Temple University. Prior to joining academia, she worked full-time with older adults in skilled nursing and long-term care. Her primary research interests include student development in fieldwork and occupational health and wellness. Dr. Moyle is excited to be part of the Duke team and is committed to creating occupation-centered fieldwork experiences. She enjoys establishing meaningful community partnerships, exploring novel inter-professional collaborations, and supporting clinical educators in their work with her students.