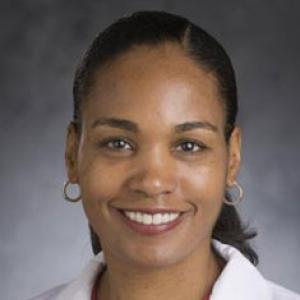 Vice Dean for Translational Sciences
Contact Information:
Ebony Boulware, MD, MPH, is a Professor of Medicine, Chief of the Division of General Internal Medicine in the Department of Medicine, Vice Dean for Translational Science and Associate Vice Chancellor for Research in the School of Medicine and at Duke University.
 Dr. Boulware received an A.B. degree in English from Vassar College, an M.D. from Duke University, and a M.P.H. from the Johns Hopkins Bloomberg School of Public Health.  After her medical school training at Duke, Dr. Boulware completed residency training and a year as chief resident in Internal Medicine at the University of Maryland. She then completed a Research Fellowship in General Internal Medicine at Johns Hopkins, where she remained on faculty for over 10 years. In 2013, she joined Duke University as the Chief of the Division of General Internal Medicine in the Department of Medicine. In 2015, she became the Director of Duke's Clinical and Translational Science Award and the Duke Clinical and Translational Science Institute.
 Dr. Boulware has spent the majority of her scholarly career investigating mechanisms to improve health care and health outcomes for patients and populations with chronic diseases such as chronic kidney disease and hypertension. Her research has been funded by numerous organizations, including the National Institutes for Health, the Patient Centered Outcomes Research Institute, the Health Resources and Services Administration, the Agency for Health Care Research and Quality, and foundations. She has mentored over 40 students, fellows, and faculty members in clinical research. Dr. Boulware frequently engages community members, patients, their family members, and other stakeholders to develop and implement relevant and sustainable interventions to improve health. As Director of the Clinical and Translational Science Institute, she works with numerous faculty, staff, and trainees as well as community partners to help scientific discoveries reach public benefit.