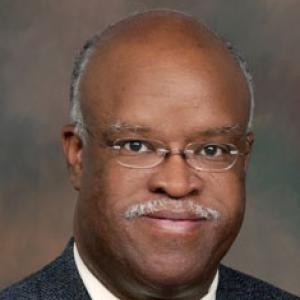 Associate Dean for Student Affairs
Dr. Delbert R. Wigfall is a professor in the Department of Pediatrics, Division of Pediatric Nephrology, and physician director of the Multicultural Resource Center for the School of Medicine.
Dr. Wigfall was born in Charleston, South Carolina. He received a BA with honors in chemistry from Williams College and an MD from Emory University School of Medicine. He completed a residency in pediatrics at the University of Texas, Houston, Hermann Hospital and M.D. Anderson Cancer Center. After joining the faculty at Emory University as a clinical associate for two years, he completed a fellowship in pediatric nephrology at the University of California, Los Angeles. He joined the Duke faculty in 1987.
Dr. Wigfall's clinical interests are in autoimmune kidney diseases, transplantation, and hypertension. He has championed the inclusion of cultural competency and communication through the evolution of the Multicultural Resource Center. His work in this area has earned him recognition by the Arnold P. Gold Foundation as the 2001 Humanism in Medicine Award recipient and inclusion as a new inductee in the Arnold P. Gold Humanism Honor Society in 2005.  He is a past recipient of the Office of Institutional Equity "Equity, Diversity and Inclusion (EDI) Award" (2007), and the Samuel DuBois Cook Society Award (2016).