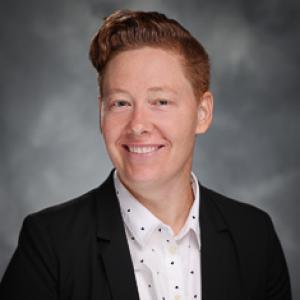 Faculty Development Resident; Instructor, Medical Center
Contact Information:
Dr. Allyson Sutkowi-Hemstreet attended the University of California, Berkeley where she completed her BA in Psychology. She worked for the Department of Veterans Affairs as a research assistant and project manager for various studies examining substance abuse treatment, end-of-life and palliative care. After completing the Duke University Doctor of Physical Therapy (DPT) program in 2014, Allyson has worked primarily in acute care physical therapy, treating patients with various cardiovascular, pulmonary neurologic, orthopedic, oncologic, and post-surgical conditions. Dr. Sutkowi-Hemstreet is an American Board of Physical Therapy Certified Clinical Specialist in Cardiovascular and Pulmonary Physical Therapy. She is also an APTA Certified Clinical Instructor. She is a board member of the Duke Alumni LGBTQ+ Network and a member of the APTA's PT Proud Membership Committee. Dr. Sutkowi-Hemstreet is part of the 2022-2023 Health Professions cohort of the Teaching for Equity Fellowship. She is a current second-year Duke DPT Faculty Development Resident.
Her clinical focus is primarily adult acute care and patients with cardiovascular and pulmonary conditions. She also has an interest and passion for social justice, humanities in medicine, and inclusive educational practices. 
Education
DPT, Doctor of Physical Therapy, Duke University, Durham, NC, 2014
Bachelor of Arts, University of California, Berkeley, Berkeley, CA 2005
Teaching
Introduction to Patient Exam, PT 634

Cultural Determinants of Health and Health Disparities Small Group Facilitator, PT 635

Exercise Prescription in the Continuum of Care, PT 638

Foundational Cardiovascular & Pulmonary Practice, PT 634

Management of the Complex Patient, PT 733

PT Professional Practice I, II, III

Adaptive Technologies, PT 644

Comprehensive Assessment and Management of Practice II
Practice
Acute Care–adult cardiology, cardiothoracic surgery
Awards and Recognition
ABPTRFE Board Certified Clinical Specialist in Cardiovascular & Pulmonary Physical Therapy, 2022

APTA Basic Credentialed Clinical Instructor, 2017

Recipient of the 2012 Duke Doctorate of Physical Therapy Helen Kaiser Alumni Award

Recipient of the 2014 Duke Doctorate of Physical Therapy Diversity Award