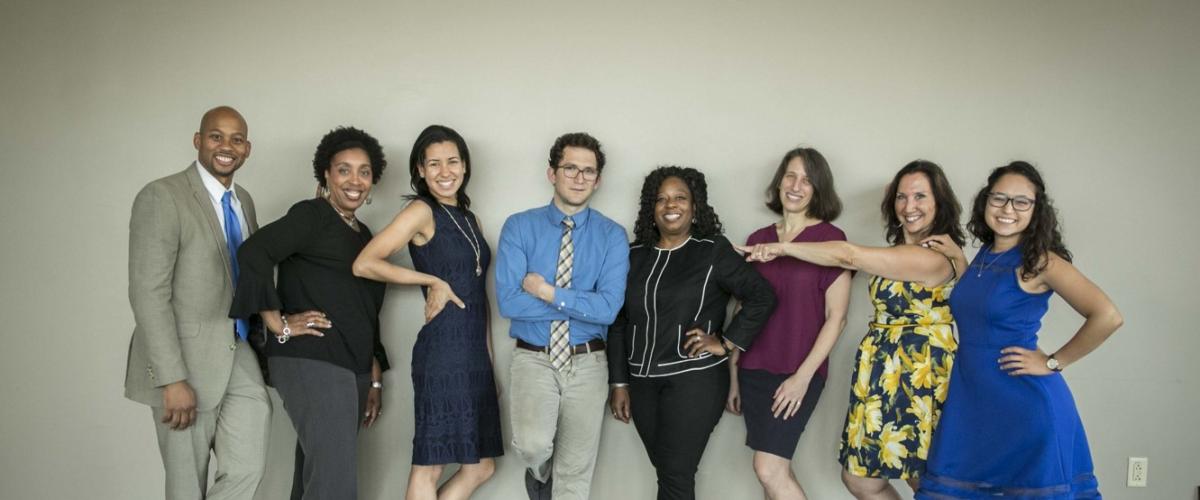 The Michelle P. Winn Inclusive Excellence Award recognizes individuals who have made significant contributions to diversity and inclusion within the School of Medicine community.
The following current and former members of the Duke University School of Medicine have received the Michelle Winn Inclusive Excellence Award:
2022 Recipients:
Amanda Clarke, MA
Christie McCray, MEd
Sonali Biswas
Andrew Spector, MD
2021 Recipients:
Jacqueline Barnett, DHSc, MSHS, PA-C
Maureen Cullins, AM
Gabriela Maradiaga Panayotti, MD, and Viviana Martinez-Bianchi, MD (Team Award)
Marcus Taylor
2020 Recipients:
Kimberley Evans, MD
Priscilla Graham
Nathaniel Neptune, MBA, MS3
Tamara Saint-Surin, MD
Cultural Determinants of Health & Health Disparities Faculty and Facilitators (Team Award)
2019 Recipients:
Delisa Clay
Joe English, MHA
Yusra Iftikhar
Terrell Jones
Megan Kelly
Shaunte McKay, MD
Dinushika Mohottige, MD, MPH
Erica Taylor, MD
2018 Recipients:
Nadine Barrett, PhD
Joshua Davidoff, PA-S
Charlotte Gamble, MD
Gabriela Nagy, PhD
Melissa Segal, LCSW
Kristina Quow
2017 Recipients:
Aladine A. Elsamadicy, BE
Randall Grimes, MA
Michael O. On'Gele, BS
Delbert Wigfall, MD
2016 Recipients:
Jessica Friedman, MD
Regina Streaty
Kevin Thomas, MD
Read more about the Michelle P. Winn Award, or nominate a colleague, here.