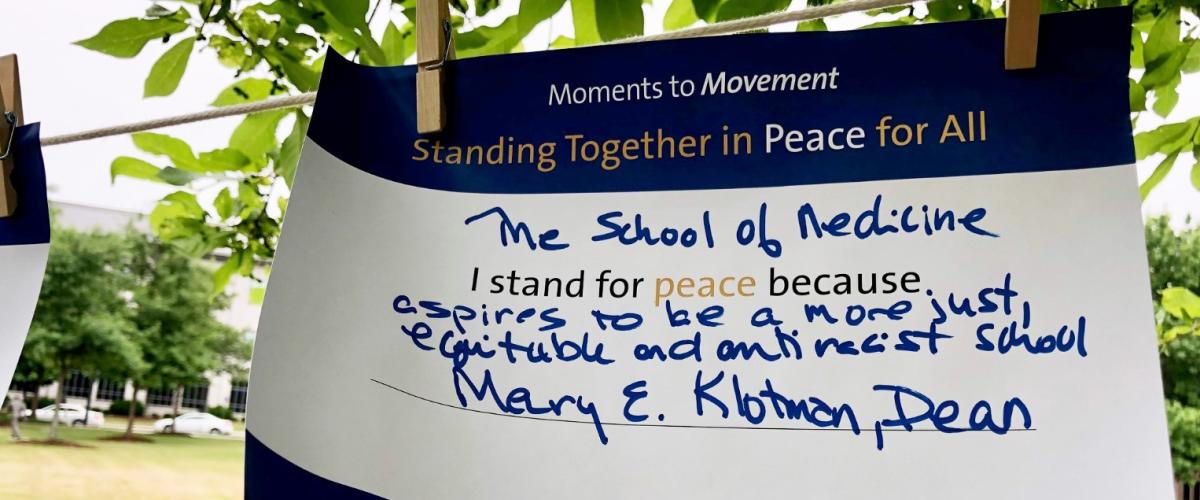 The Duke University School of Medicine is committed to dismantling racism and to better understanding the root causes, harms, and strategies to reduce racial inequity.
This commitment, known as Moments to Movement (M2M), extends within our institutional walls, our surrounding community, and our nation. Read more about Moments to Movement here.
The EDI has formally identified, coached, and on-boarded more than 44 leaders within Departments, Centers, and Institutes within the School of Medicine. These leaders inform and guide unit-level strategies and translate best and promising D&I practices from central efforts to local applications in partners with their chairs or other leaders.
These D&I leaders also serve as liaisons to the EDI and act as delegates within the School-wide Inclusion Council, partnering with their Chairs, Center, and Department leaders to advance strategies to improve equity, diversity, and inclusion.
Within Duke University
Duke aspires to create a community built on collaboration, innovation, creativity, and belonging. Our collective success depends on the robust exchange of ideas—an exchange that is best when the rich diversity of our perspectives, backgrounds, and experiences flourishes. To achieve this exchange, it is essential that all members of the community feel secure and welcome, that the contributions of all individuals are respected, and that all voices are heard. All members of our community have a responsibility to uphold these values.
Learn more about our institutional commitment to these values from our Office for Institutional Equity.