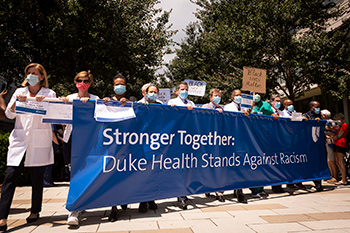 In the spring of 2020, nationwide protests erupted, calling for justice and an end to systemic racism, stemming from an ongoing, entrenched pattern of murders of Black and Brown people by police and vigilantes. Further driving the urgency of this moment is the COVID-19 pandemic, which has disproportionately impacted Black, Hispanic, and Indigenous communities. The traumas of racism are burdens that have been rendered invisible and carried most heavily by individuals who are Black, Indigenous, and People of Color (BIPOC).
In June 2020, inspired by protests and calls from national leaders and bolstered by demands for justice and reform from our students  and faculty, the School of Medicine launched Moments to Movement. This movement reflects our commitment to dismantling racism, better understanding the root causes, harms, and strategies for reducing racial inequity, and promoting a diverse and inclusive community in the School of Medicine. This commitment extends within our institution and beyond, to our surrounding community, and our nation. 
As we reshape our institutional values and practices to advance racial equity and justice, it is critical that our commitments make bold, broad and specific impacts across all underrepresented race/ethnicity (URE) groups. While our planning has focused on efforts to bolster equity and justice for BIPOC and specifically for Black and African American faculty, learners, and staff in our School, many initiatives will have broader benefits in reducing other forms of bias and discrimination and improving the environment for our entire community.
In advancing racial equity in service to our community, we must also examine medicine's role in defining race and the legacy of abuse of Black and Brown individuals in treatment, patient care, and public health research. Defining race in biological terms contributes to racially inequitable treatment and patient care. As we educate current and future generations of clinicians and scientists, we must be unified in our shared understanding of race as a social construct and unwavering in our commitment to eradicating racial inequities in health.
Glossary of Terms
As we seek to dismantle racism and advance equity across the Duke community, it's vital that we have shared terminology that we use as we advance this work together. Learn more by visiting the Glossary of Terms in the strategic plan.