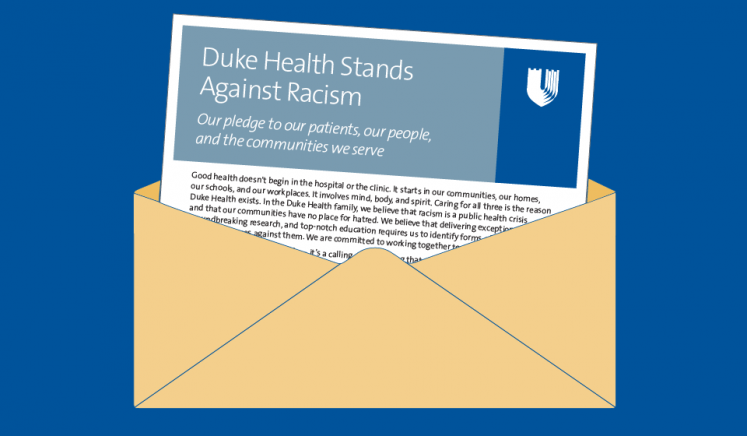 It's Duke Health's collective stand against systemic racism and injustice. The name signifies going beyond passive moments of reflection and becoming more active as we build a movement to make lasting change for our patients, our students, their loved ones, and each other. Moments to Movement is our pledge to stand against racism and hate in all their forms, to be self-aware, and to make equitable choices daily. That is how we create a community that is stronger, healthier, and more just. 
It's about putting our mission and our values into action. Quality care cannot happen without equity, and equitably healing minds and bodies means overcoming the painful separations that divide us. To deliver excellent care (and the research and education that support it), we must ensure equal access to treatments, equal patient experiences, and equal results and outcomes. We know that this equity is not yet a reality for all, which is why we say that racism is a public health crisis.
As an institution and an anchor in our community, we've pledged to stand against racism in all its forms and to stand up for civil and human rights. In addition, we're standing up for access to the factors that influence good health, such as education, transportation, healthy food, and of course, health care. If we truly believe in diversity, and in our core value of "caring for each other," we will stand up for human rights on behalf of our team members, our patients, our students, and our neighbors.
This is our job. Systemic racism is a public health crisis, and fighting it is directly related to our healthcare mission. We cannot provide excellent care, teaching, or discovery without ensuring equitable care.
It's also directly related to our values. As leaders, we're responsible for creating an environment where our team members feel safe, seen, heard and respected. Acknowledging the existence of racism and injustice shows that you care, and that they matter. We hope you're having such conversations regularly, especially as we continue our pursuit for equity. We're providing talking points to help you, but only as a starting point, because real conversation is always from the heart, and never scripted.
Change can be uncomfortable, but doing things differently is what we need to make the change stick. We need a yardstick for accountability to make the change real. We know there will be tough conversations to help people understand—and they may be exactly the types of conversations we need in order to move forward.
It was developed by a group of team members from across the organization over a period of many months, and then extensively reviewed with leadership of all Duke Health entities…DUHS, the PDC, and the Schools of Medicine and Nursing.
That's the reason for the pledge. It defines what we believe and value, sets a standard for behavior, serves as a measure for accountability, creates a yardstick for progress, and serves as a guide and barometer for important decisions. If you experience that is contrary to the statements in the pledge, we want to know. Please share your concerns with our supervisor, HR representative, or the Office of Institutional Equity. They will help guide you.
While not right away, we plan to add it to the policies that we all attest to when we review compliance matters in the fall. At that time, refusing to sign will be treated like any other refusal to comply, and any intentional violation will result in corrective action. Steps for corrective action may vary, depending on circumstances and the severity of the violation, and can range from a verbal warning up to and including termination.
Be an ally and say something. You can stand up for others by using the VCR method: Validate, challenge, request. Validate their statement by assuming positive intent ("I appreciate that you…"). Challenge the area that needs to improve "…and at the same time, it is difficult for me to hear…"). Then make a specific request about what you hope to see in the future. If you don't feel comfortable being an ally, or if you need to escalate for any reason, talk to your supervisor, your HR representative, or the Office of Institutional Equity.
Possible options include:
"Thank you for noticing! This statement is a reminder of the values we hold dear, and is our public commitment to recognize and protect our mutual humanity. Here in the Duke Health family, caring for one another is the foundation of everything. So we value each other's differences. We treat all people with respect. And we practice kindness, inclusion, and compassion.
Diversity and teamwork are the foundation of what we do, because we know from experience that we are much stronger together. That's what makes this an amazing place to give and receive care, educate the next generation of medical professionals, and advance the field of health through discovery."
Anti-racism means putting our values and beliefs into concrete action. It's not enough to merely disapprove of racism, as that does not bring change. We must be allies who actively fight racism at the individual, interpersonal, institutional and structural levels. That involves having hard conversations, making sure we are not on the sidelines, and always taking a stand for our values. There is no neutral when it comes to civil or human rights: you either support them, or you don't.
Being an anti-racist also means realizing there is nothing inferior or superior about any racial group. Whenever the antiracist sees individuals behaving positively or negatively, it's exactly that: individuals behaving positively or negatively, not representatives of whole races. To be anti-racist is to deracialize behavior, refuse to stereotype races, and recognize that behavior is something humans do, not races. 
Duke is a multicultural organization, and diversity is one of our core values. Some of the ways we have honored human difference include education and training on cultural competence and human difference, and the establishment of affinity groups. Part of Moments to Movement is acknowledging that, despite our efforts to respect all human difference and create a culture where everyone feels they belong, we have not yet "arrived" in terms of true equity, and there is much more still to be done, both inside and outside our walls. The work we do for one group will also help others who may be feeling disenfranchised, because equity is not a zero-sum game – it's not an "either/or," but a "both/and."  
De-escalating tense and charged situations is not new for us. We are experienced at managing situations with patients and family members who occasionally become agitated or aggressive because they are uncomfortable or even afraid.
Our Clinical Education and Professional Development (CEPD) and Behavioral Health teams are currently supporting staff in this area by offering Crisis Prevention Intervention (CPI) classes.  With a focus on using teamwork to de-escalate situations, the classes are currently designed for groups of coworkers. An online version of the training will be available for all team members in the coming weeks.  
The Duke Police also offers a helpful resource. Visit https://police.duke.edu/outreach, and then choose the link for Duke University Police Department's Virtual Online Series 2020. (You'll need to login with your net ID and password.) De-escalation is the fourth module. In just 25 minutes, it provides basic information for de-escalating uncomfortable conversations or situations. The fundamental principle is that you can't control another person's behavior, but you can influence it, for better or for worse. Some tips:
These conversations take time, so make time to focus.
Remain calm and avoid overreacting. Lower your voice and speak gently.
Be empathetic and nonjudgmental.
Ensure body language is nonthreatening. Project a relaxed posture.
Communicate that you are ready to stay for the conversation.
Listen and thoughtfully respond rather than defend. Allow them to talk, and allow silence for processing.
Considering your personal safety and the safety of your colleagues is a priority. Be aware of your surroundings and respectfully retreat, exit or ask for help if you need to.
We cannot control everything that happens around us; we can only control our behaviors and our response, which are ideally constructive and thoughtful and lead to a meaningful resolution. At the end of the day, if we truly believe in our values of caring for one another, we will be ready and willing to have tough conversations, because we know they build trust and mutual respect.