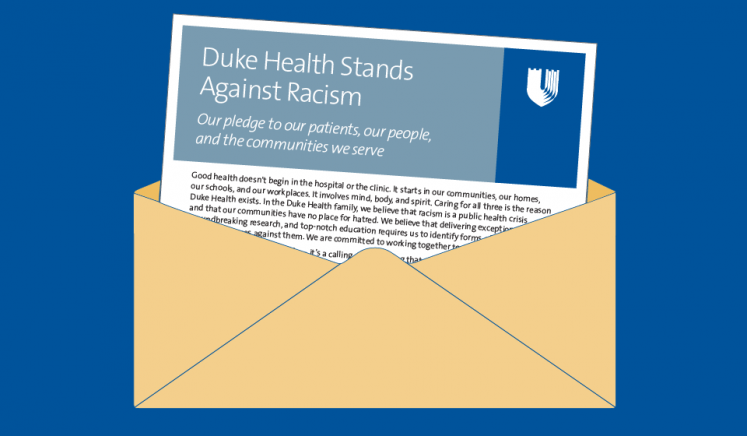 The Duke University School of Medicine, along with other Duke Health entities (the Duke University Health System, Private Diagnostic Clinic, and School of Nursing) has taken a new pledge against racism that will serve as a guide for future decisions and a measure for progress. The one-page statement, "Duke Health Stands Against Racism," is a commitment to make lasting change and to create a community that is stronger, healthier and more just. A Spanish-language version of this pledge is also available.
The one-page statement was developed over a period of months by team members from across Duke Health entities.
Duke Health has mailed the pledge to the homes of all of its faculty and staff. The pledge will also be shared on Duke Health websites, posted on the walls of its clinics, hospitals, schools, administrative and research buildings, and added to its orientation and admission materials.
Why is a pledge like this needed?
"As we have developed a culture of quality and safety, we must now develop a culture of equity," says Richard Shannon, MD, chief quality officer, DUHS. "We cannot provide excellent care, teaching or discovery without ensuring that these areas are equitable. Likewise, we can't be an employer of choice if our people aren't feeling safe, seen, heard and respected. We know that this equity is not yet a reality for all, which is why we say that racism is a public health crisis — and why we're standing up against it for our team members, patients and the community."
Brian Wofford, vice president, Heart Operations for Durham County, was involved in the writing of the pledge. "All of our teammates can feel proud of this work," he says, "because it's an extension of our core value to care for our patients, their loved ones and each other, and an incredible example of our commitment to zero harm beyond the bedside."
The pledge is also a mechanism for accountability. If you experience something that is contrary to the statements in the pledge, we want to know. Please share your concerns with your supervisor, HR representative or the Office of Institutional Equity. This is one way we can start making change that sticks.
"This heartfelt statement is something that can be embraced by all of Duke Health," says Erica Taylor, MD, MBA, assistant professor of orthopaedic surgery and PDC associate chief medical officer of diversity and inclusion. "Our team members come from a broad spectrum of diverse backgrounds, experiences and viewpoints, and that diversity is one of our strengths. This pledge is one expression of our unity, and of the values we uphold each day."
Read the Pledge